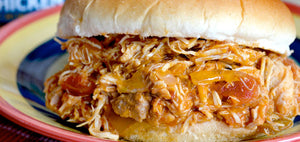 Mexican Shredded Chicken Sandwich
This spicy twist on the classic shredded chicken sandwich brings a little South-of-the-Border fiesta to your tailgate.
Ingredients
28 oz can Keystone Chicken
2/3 cup salsa verde
3 cups chunky salsa
2 tsp chili powder
1 medium yellow onion, thinly sliced
1 Tbsp olive oil
3/4 cup water
Steps
Heat the oil in a large nonstick skillet over medium heat. Add the onions, chili powder. Cook for 5-10 minutes, stirring frequently until the onions are softened and browned.
Add water, lower the heat, add Keystone chicken, salsa verde and chunky salsa. Cook until heated through, about 3 to 5 minutes.