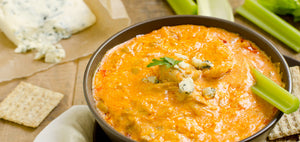 Mexican-Style Buffalo Chicken Dip
It's a buffalo dip with a twist! And because you use recipe ready tender chicken from Keystone Meats, your prep time is oh so easy. Whether you're tailgating or homegating your family will love this recipe!
Ingredients
1 can (28 oz) Keystone Chicken, drained
1 can (16 oz) refried beans
2 Tbsp taco seasoning mix
1 package (8 oz) cream cheese, softened
1/4 cup celery, diced
1/2 cup blue cheese dressing
1/2 cup hot sauce
Steps
Heat oven to 350°F. Spray 1 1/2-quart casserole dish with cooking spray.
Combine refried beans and taco seasoning mix in small bowl and spread evenly on bottom of casserole dish. In medium bowl, mix cream cheese, celery, dressing and hot sauce. Fold in Keystone Chicken. Spoon chicken mixture over refried beans in casserole dish.
Bake uncovered for 35 minutes. Let stand 12 minutes before serving. Serve with tortilla chips or celery sticks.