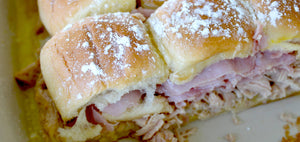 Monte Cristo Casserole Sliders
Your Sunday brunch just got a whole lot easier! We've taken the traditional Monte Cristo sandwich and made it into an easy casserole that's ideal for any breakfast (or lunch) table. These little sliders are perfect for the grab and go crowd looking for a sweet treat filled with the power of protein-packed, recipe ready meat. You'll love the convenience of using time saving recipe ready all natural Keystone Turkey while your family will love gobbling up these tasty sandwiches!
Ingredients
1/2 can (28 oz) Keystone Turkey, drained
1 box couscous
1 cup red pepper, sliced
1/2 cup corn
2 carrots, sliced
1/3 cup dried cranberries
1 cup pine nuts
1 lemon, juiced
Steps
Preheat the air fryer to 360° F
Add vegetables, oil, salt and pepper to taste to a bowl. Toss to coat; arrange in air fryer basket.
Cook vegetables for 10 minutes, stirring after 5 minutes.
While vegetables are air frying, prepare couscous according to box instructions.
After all items are cooked, add all ingredients, lemon juice and Keystone Turkey in a large bowl and mix well. Mix in pine nuts and dried cranberries. May be served warm or cold.