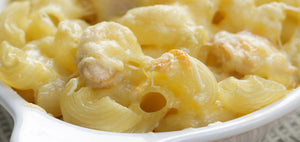 More Cheese Please Mac & Cheese
Ooey gooey cheesy goodness! The secret to our More Cheese Please Mac and Cheese recipe? The cream cheese that blends so well with Keystone Chicken! Plus, we make it so easy because our chicken is fully cooked and ready to use right from your pantry. This mac 'n cheese recipe will have your family begging for more - please 'em tonight.
Ingredients
1/2 can (28 oz) Keystone Chicken, drained
1 pound medium shell pasta
4 Tbsp. unsalted butter
¼ cup all-purpose flour
1 ½ cups of whole milk
1 cup half and half
8 oz cheddar cheese, shredded
6 oz Colby Jack cheese, shredded
2 tsp dijon mustard
4 oz cream cheese, cut into cubes
Ground black pepper, to taste
Steps
Cook pasta according to directions. Drain and set aside.
In a large saucepan, over medium-high heat, melt the butter. When butter begins to foam, sprinkle in the flour and stir until it becomes pasty about 1 minute.
Whisk in the milk and half-and-half and bring to a low simmer. Cook, stirring, until the mixture thickens, about 5 minutes.
Add the cheddar and Colby jack cheeses by the handful to the milk mixture, stirring well until melted. Mix in mustard and fold in the cream cheese and stir well until melted.
Mix in the Keystone Chicken; season with pepper. Stir in the cooked pasta.
Serve immediately while still warm!