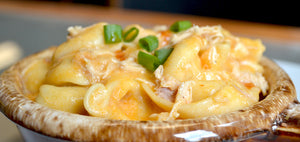 One Pot Buffalo Chicken Tortellini
This hardy family dinner is perfect for the cool weather, and because you use recipe ready Keystone Chicken you'll be sitting down to the table in less than 20 minutes!
Ingredients
1 can (28 oz.) Keystone Chicken
2 1/2 cups Keystone Chicken Broth
2 Tbsp butter
1 tsp garlic powder
1 package (about 20 oz.) refrigerated or frozen cheese tortellini
1/2 cup buffalo wing hot sauce
1/2 cup ranch dressing
2 cups shredded mozzarella cheese
Steps
In a large pot or pan, melt the butter. Add the garlic powder, and stir continuously until completely mixed.
Gradually pour in the Keystone Chicken Broth, whisking constantly. Cook the broth for about 2 minutes or until thickened.
Add the tortellini to the pan and bring to a boil. Cook for 4 minutes, stirring occasionally.
Add Keystone Chicken, buffalo hot sauce, ranch dressing, and 1 cup of the cheese to the pot and stir well. Once completely mixed together, top the tortellini with the remaining cup of cheese, cover the pot with a lid for 2-3 minutes, until cheese is melted. Enjoy!