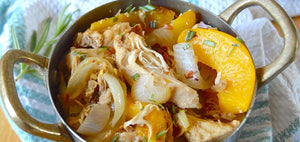 Peaches and Cider Chicken Skillet
A Fall favorite that you'll want to enjoy any time of the year! Although this flavorful recipe uses peaches and apple cider, don't worry, it's not a sweet dish. And when you use Keystone Chicken, prep and cook times are fast and easy.
Ingredients
1/2 can (28 oz) Keystone Chicken, drained
1 medium onion, sliced
3 cloves garlic, minced
2 cans (15 oz) sliced peaches, undrained
4 Tbsp. apple cider
1/2 tsp. red pepper flakes
1/2 tsp. dried rosemary, optional
Salt to taste
Steps
In a large skillet over medium-high heat; add olive oil. Add onions and cook for four minutes or until tender. Add garlic and cook additional 2 minutes.
Add apple cider and mix well. Add Keystone Chicken and cook for 2 minutes, mix well. Mix in undrained peach slices and cover, reduce to medium-low and cook 4-5 minutes. Season lightly with salt and mix in rosemary.
Remove skillet from heat and top with red pepper flakes. Serve immediately.