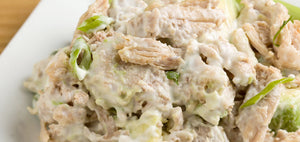 Pork and Avocado Salad
This refreshing salad, with just a hint of lime, is the perfect addition to your next BBQ or picnic! You'll love the way our tender pork complements the avocado. For another option, try any Keystone Meat products in place of pork.
Ingredients
1 can (28 oz) Keystone Pork
2 medium avocados, diced
2 Tbsp. fresh squeezed lime juice
salt, to taste
1/4 cup green onion, thinly sliced
1/2 cup finely chopped fresh cilantro
2 Tbsp. mayo or light mayo
Steps
Dice the avocados into medium-sized pieces, mix with the 1st Tbsp. of lime juice, and season avocado with salt to taste.
Thinly slice the green onion and finely chop the cilantro. Mix mayo and 2nd Tbsp. of lime juice to make the dressing.
Put the Keystone Pork into a bowl large enough to hold all the salad ingredients. Add the sliced green onions and dressing and toss until all the pork is coated with dressing.
Add the avocado and any lime juice in the bottom of the bowl and gently combine with the pork.
Then add the chopped cilantro and gently mix into the salad, just until it is barely combined.