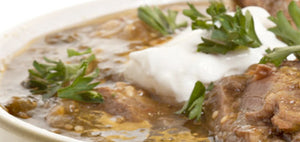 Pork Chili Verde
There's no need to simmer your pork all day long, just open up a can of Keystone recipe ready pork and you're on your way to making one of the quickest Chili Verde meals around!
Ingredients
1 can (28 oz) Keystone Pork
1 1/2 tsp. Keystone Chicken Soup Base in 8 cups of water
2 Tbsp. vegetable oil
2 cups salsa verde
4 cans (15 oz) white beans
1 yellow onion, diced
2 teaspoons cumin
1 teaspoons chili powder
kosher salt
garnish with green onions and cilantro
Steps
In a large heavy pot, heat the vegetable oil over medium heat and add the onion. Sprinkle with kosher salt and let cook until soft and translucent.
Add Keystone Pork to the onion and cook about 5 minutes.
Add the salsa verde to the pork and onions and simmer together.
Rinse and drain the white beans. Add the beans to the chili.
Add the Keystone Chicken Soup Base mix, put a lid on the chili and simmer for an hour.
Add the cumin and chili powder and then season to taste with kosher salt.
Garnish with green onions and cilantro and serve immediately.