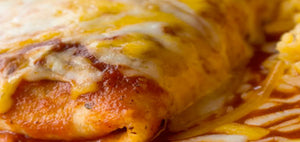 Pork Enchiladas
Our Enchiladas recipe has the authentic restaurant-style flavors you love but without all the prep and cook time. Add an additional can of Keystone Beef to make a double meat version!
Ingredients
1 can (28 oz) Keystone Pork
3 1/2 cups Pepper Jack or Monterey Jack cheese, shredded
10-12 flour tortillas, burrito size
1 Tbsp. olive oil
½ cup onions, chopped
3 cloves garlic, minced
3 cans (8 oz) tomato sauce
2 cans (4 oz) green chilies, chopped
2 Tbsp. chili powder
1 Tbsp. ground cumin
a few splashes of hot sauce to taste (optional)
Steps
Preheat your oven to 350º F.
For the enchilada sauce:
Heat the olive oil in a saucepan.
Sauté the onions until soft and translucent.
Add the garlic and sauté for 1 minute.
Stir in the tomato sauce, green chilies, chili powder, cumin, and hot sauce (optional).
Cook on medium/low heat for 10 minutes, stirring often.
For the enchiladas:
Pour a little bit of the enchilada sauce in the bottom of a 9 x 13 pan, just enough to cover the bottom.
Lay out the flour tortillas and spoon in the Keystone Pork.
Then spoon in a couple heaping spoonfuls of shredded cheese, to your liking.
Roll like a burrito and place in the baking dish. Repeat until all the tortillas are used.
Cover completely with the remaining sauce.
Sprinkle the remaining shredded cheese on top.
Bake, uncovered, for 20 minutes.