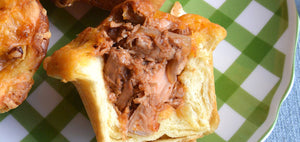 Pork Stuffed Muffins
Your kids will love helping to make (and eat) our stuffed pork muffin recipe! It's easy to prep, especially when you use fully cooked Keystone Pork.
Ingredients
1/2 can (28 oz) Keystone Pork
8 ct. refrigerated jumbo biscuits
1/2 cup white onion, diced
1/2 cup your favorite BBQ sauce
1 Tbsp olive oil
1/2 cup shredded cheddar cheese
Steps
Preheat oven to 375°F.
Spray 8 cups of a muffin pan with non-stick cooking spray. Set aside.
In a large skillet over medium heat, cook the onions with the olive oil until golden brown.
Add Keystone Pork and BBQ sauce and mix until fully heated through. Turn the heat off and set aside to cool down.
Flatten biscuits with your fingers so that they become large enough to press into bottom and up sides of prepared muffin cups. Spoon a 2-3 tablespoons full of the cooled meat mixture into the bottom of each biscuit cup. Top with as much cheddar cheese as desired.
Bake for 15-20 minutes or until cheese is melted and edges of biscuits are golden. Use a spoon to carefully remove biscuit cups from pan. Enjoy!