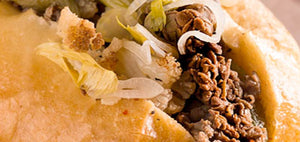 Pulled Pork Philly
We've taken the best that the classic Philly Cheesesteak sandwich has to offer and - believe or not - made it better by using our tender Keystone Pork!
Ingredients
1 can (28 oz.) Keystone Pork, shredded
1 lb. bacon, cooked and chopped
1 red bell pepper, sliced
1 red onion, sliced
5 small green onions, sliced
2 teaspoons crushed red pepper flakes
2 cups mozzarella cheese, shredded
1 cup Parmesan cheese, grated
4 slices provolone cheese
8 oz cream cheese
8 rolls
Steps
Preheat oven to 375º F.
Cook bacon in a frying pan until crispy, remove. Drain excess fat on paper towel and chop. Set aside.
Slice red bell pepper, red onions and green onions.
Start layering process in a 2-quart baking dish with the following, in order.
First Layer: begin with half of all your ingredients. red onions, red bell peppers, Keystone Pork, bacon, cream cheese, Parmesan, mozzarella, provolone (tear into pieces), spring onions, and crushed red pepper flakes.
Second Layer: repeat with remaining ingredients.
Cover with lid or foil. (If using foil, spray cooking nonstick spray onto the foil to prevent the cheese from sticking.)
Bake for 30 minutes, covered. 10 more minutes, uncovered. (40 min. total)
Slice 8 rolls and serve this Pork Philly with any side salad for your family.