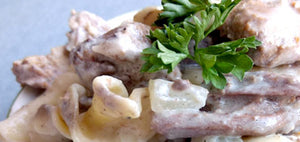 Pulled Pork Stroganoff
A Stroganoff recipe in less than 30 minutes? Yes. A Stroganoff recipe that tastes even better than using beef? Yes! Especially when you use tender Keystone Pork. If you're a traditionalist, substitute pork for Keystone Beef - either way, it'll be your new go-to family meal.
Ingredients
1 can (28 oz.) Keystone Pork
1 Tbsp. butter
1 tsp vegetable oil
1 Tbsp. paprika
1 can button mushrooms, sliced
1 onion, chopped
2 Tbsp. vegetable oil
10 oz. sour cream
¼ tsp salt
½ tsp black pepper
2 tsp lemon juice
Handful of parsley leaves, finely chopped
1 pack pappardelle (or any long pasta)
½ tsp salt
2 Tbsp. butter
Steps
Bring a large pan of water to a boil. Add salt and then cook the pappardelle per the instructions.
When cooked drain well, add the butter and use tongs to gently lift and turn the pappardelle until the butter has melted and coated them.
While the pasta is cooking, peel and chop the onion, set to one side and slice the mushrooms.
Add the butter and oil to a large frying pan and melt over a medium heat.
Add the paprika and onion. Mix well and cook slowly until the onion is translucent and soft.
Add the mushrooms and cook for 4 minutes over a low heat.
While the mushrooms are cooking, heat the Keystone Pork in a pan with vegetable oil.
Transfer the onion and mushroom mixture to a plate and set aside.
Add the sour cream and salt to the pork and bring to a simmer.
Cook for 2 minutes until thickened slightly.