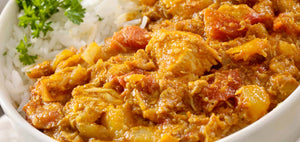 Pumpkin Chicken Curry
Do you get pumped for pumpkin spice? Then, you'll love this healthy and hearty dish full of warm spices and creamy coconut milk. It's a nice welcome on those cooler fall nights. And because you use fully cooked Keystone Chicken, this recipe can be whipped up any day of the week. 2023 Keystone Cookbook Recipe.
Ingredients
2 cans (28 oz) Keystone Chicken
1 cup Keystone Chicken Broth
1/2 can Pumpkin puree
2 Tbsp. Tomato sauce
3 Tbsp. Olive oil
5 Garlic cloves, minced
1/8 tsp. Cayenne pepper
1/2 tsp Curry powder
2 Tbsp. Heavy cream or coconut milk
1/2 Onion, finely minced
1/2 tsp. Salt
Steps
Heat 2 tablespoon of olive oil in a large skillet heat and on a medium heat. Add chicken, cut into bite-size pieces and cook for 3-4 minutes on each size. Transfer to a plate.
Wipe the skillet with a paper towel, return to a heat and add 1 more tablespoon of olive oil. Add onion and saute for 5 minutes or until translucent. Stir in garlic and cook for one more minute.
Stir in pumpkin puree, tomato sauce, heavy cream, chicken broth, Curry powder, Cayenne pepper and ½ teaspoon salt. Bring the sauce to a low simmer.
Add chicken to a pumpkin sauce and simmer for 10 minutes.
Serve immediately over rice or pasta.