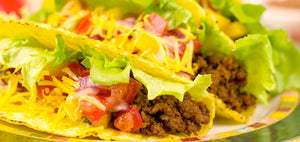 Quick Taco Tuesday
Packed with fully cooked Keystone Ground Beef, black beans and all the classic toppings, these crowd-ready tacos make a meal everyone will love. Better make two pans, they'll go fast!
Ingredients
1 can (28 oz.) Keystone Ground Beef, drained and mixed
10 tortilla shells
1 1/2 cup black beans, drained
2 cups shredded cheddar cheese (or more or less to your taste)
Topping ideas:
shredded lettuce
tomatoes, diced
avocado, diced
black olives, sliced
onion, diced
jalapeno pepper, thinly sliced
salsa
sour cream or whole plain Greek yogurt
Taco Bell Sauce
Steps
Preheat oven to 350 degrees.
Cover a small baking dish with foil and spray with cooking spray.
Line the tortilla shells standing up with Keystone Ground Beef spread inside each one.
Bake for about 8 minutes.
While baking, prepare all the toppings.
Serve tacos immediately and top with favorite toppings.