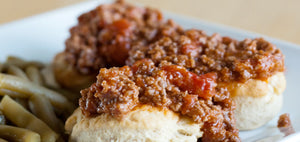 Simple Sloppy Joes
We may call this Sloppy Joes recipe "Simple" but the flavor is anything but simple! Full flavor with a hint of sweetness will please kids and adults alike. Use in a wrap as an on-the-go sandwich or layer on a biscuit for a down home southern taste. Cutting down on carbs? Leave off the bun and make it an open-faced sandwich.
Ingredients
1 28 oz can Keystone Ground Beef
1 small onion, chopped
2-3 stalks celery, chopped
1 8 oz can tomato sauce
1/4 cup ketchup
1/4 cup barbecue sauce
1 Tbsp. firmly packed brown sugar
1 Tbsp. Worcestershire sauce
salt and pepper to taste
1 Tbsp. vinegar
1/4 cup red pepper, diced (optional)
Steps
In large skillet, stir all ingredients together, simmer covered, 10 - 15 minutes, stirring occasionally.
To thicken, simply cook uncovered until desired consistency.