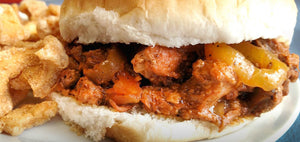 Spicy Pulled Pork Sandwich
Some like it hot and some like it spicy! We've taken the typical BBQ sandwich and added some heat to it. A great sandwich for any and all seasons.
Ingredients
1 can (28 oz) Keystone Pork
3 Tbsp. smoked paprika
1 tsp. salt
1 Tbsp. pepper
1 Tbsp. red pepper flakes
1/2 cup hot banana peppers, sliced
1/4 cup apple cider vinegar
1/2 cup of your favorite smokey BBQ sauce
Steps
Add Keystone Pork undrained in a large pot and shred with a fork. Add all ingredients and simmer on low for 20-25 minutes.
Butter the buns and toast or place on griddle.
Place pork mixture on top and serve with coleslaw and extra sauce. Add salt and pepper to taste.