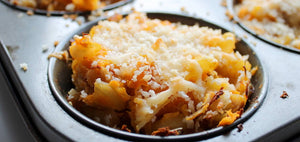 Sweet Potato Mac and Cheese
Sweet potatoes aren't just for the holidays! When you whip up this mac and cheese recipe, your family will forget all about the classic mac and cheese. Start with easy prep, fully cooked Keystone Turkey and you'll finish with a big macaroni smile!
Ingredients
1/2 can (28 oz) Keystone Turkey, drained and shredded
1 can (28 oz) sweet potatoes, drained
6 cups of cooked elbow pasta
1/2 tsp of paprika
1/2 cup of panko crumbs
1/2 cup milk
3/4 cup shredded white cheddar cheese
Salt to taste
Steps
Preheat oven to 375°
In a small bowl, mash the sweet potatoes. Add milk and paprika and salt to taste.
Combine cooked pasta, Keystone Turkey and the sweet potato mash.
Coat 12 cups of a muffin pan with non-stick spray or butter. Fill cups completely with pasta mixture. Add a dot of butter and half a tablespoon of panko to the top of each. Top with cheese.
Bake at 375° for 20 minutes or until golden brown.