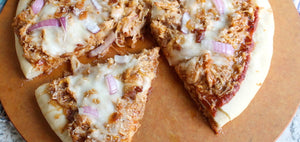 Sweet Sriracha Pizza
Don't you sometimes just get tired of the typical Friday night cheese pizza? Tonight, let the kids have their boring, plain pizza while you make our easy sweet and spicy sriracha pizza. Don't worry about spending too much time prepping in the kitchen, because when you use fully cooked Keystone Chicken, your pizza will hot out of the oven faster than any delivery!
Ingredients
1 can (14.5 oz) Keystone Chicken, drained
1 medium pizza crust
2 tablespoons olive oil
1/2 cup honey
3 tablespoons orange marmalade
3 tablespoons soy sauce, low sodium
6 tablespoons sriracha
1 cup mozzarella, shredded
1/2 cup bacon, cooked and crumbled
1/4 cup onion, sliced
1 cup pizza sauce
Steps
In a small saucepan combine the pizza sauce, honey, soy sauce, onions, olive oil, orange marmalade and 4 tablespoons sriracha. Bring to a boil and then reduce the heat. Simmer 5 minutes or until slightly thickened.
Remove from the heat and add Keystone Chicken, mix well.
Add the chicken mixture on to the pizza crust. Top with crumbled bacon and mozzarella.
Bake at 350 degrees for 10-15 minutes, or until golden brown. Drizzle the remaining 2 tablespoons of sriracha on top.