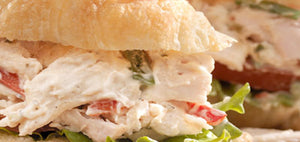 Tarragon Chicken Salad Sandwich
The secret to a great Tarragon Chicken Salad is, of course, using tender chicken. And to get tender chicken that's perfect every time, your recipe needs to include Keystone Chicken! Turning this throwback picnic favorite into a quick meal is easy. And because our chicken is fully cooked and recipe ready, you'll cut your prep time in half. Keystone makes it easy to enjoy this summer favorite all year long!
Ingredients
1 can (28 oz) Keystone Chicken, diced
1/4 cup dried cranberries, finely chopped (optional)
1 stalk celery, finely chopped
2 Tbsp. mustard
1/4 cup mayonnaise
1 or 2 tsp. dried tarragon (or use 1 or 2 Tbsp. fresh chopped tarragon)
1/4 cup onions, diced
1 tsp. lemon juice
Bread, croissants or lettuce wraps
Steps
Mix all of the wet ingredients
Add to mixed dry ingredients
Adjust seasoning to taste.
Serve with sliced tomatoes and lettuce for sandwich toppings.