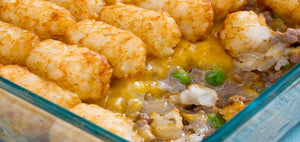 Tater Tot Sloppy Joes Casserole
Hey, you love tater tots as a side dish, now it's time to add Keystone Ground Beef and make it the star attraction! An easy casserole recipe with potatoes and beef ... what could be better? That's right, nothing!
Ingredients
1 can (28 oz) Keystone Ground Beef
1 green bell pepper, diced
1 poblano pepper, diced
1 large white onion, diced
12 oz frozen corn
3 garlic cloves, minced
salt and pepper
1 can (14.5 oz) diced tomatoes
1 cup cheddar cheese, shredded
½ cup mozzarella cheese, shredded
2 pounds frozen tater tots
Steps
Preheat oven to 425º F.
Mix together the ground beef, bell pepper, poblano pepper, onion, corn, garlic, salt and pepper, and diced tomatoes in the same pan you cooked the beef in.
Pour the mixture into a 9x13 baking dish.
Sprinkle ½ cup cheddar cheese on top. Top with tater tots. Sprinkle 1 cup cheddar and mozzarella cheese on top.
Bake for 20-25 minutes or until the tater tots are cooked.