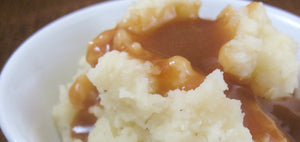 The Best (and Easiest) Gravy
This might be the easiest gravy recipe you've ever used! Just three ingredients and in less than 10 minutes you'll have a tasty addition to mashed potatoes, egg noodles and open roast beef sandwiches. Try it tonight!
Ingredients
3 tsp. either Keystone Chicken Base or Keystone Beef Base
3 1/2 cups water
1/3 cup flour
Steps
Dissolve either Keystone Chicken or Beef Base into 3 cups of boiling water.
Slowly add flour into remaining cup of cold water. Whisk out lumps of flour.
Slowly whisk flour/water into boiling soup base. Simmer and whisk until thick. 2-3 minutes.