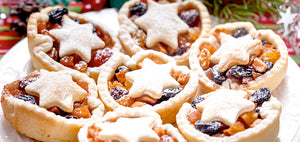 Traditional Mincemeat Pies
Start a new tradition by making this authentic English mincemeat pie for the holidays. You'll love this hardy, spicy and sweet treat!
Ingredients
1 can (28 oz) Keystone Beef, drained
1-1/2 cup Brandy (may substitute apple cider for Brandy)
4 Granny Smith apples, peeled and diced
1-1/3 cups white sugar
2-1/4 cups dried currants
2-1/2 cups raisens
1/2 pound candied mixed fruit, chopped
1/2 cup butter
1 jar (16 oz) sour cherry preserves
1 tsp ground ginger
1/2 tsp ground cloves
1/2 tsp ground nutmeg
1/2 tsp salt
1/2 tsp ground cinnamon
1 can (16 oz) sour cherries, pitted
2 pie crust, 9 inch
2 Tbsp heavy cream
Steps
In a Dutch oven, combine Keystone Beef and Brandy (or apple cider). Bring to a boil, then reduce heat to a simmer. Cover and cook for about 15 minutes. Remove meat and coarsely chop, then return it to the pot.
Stir in chopped apples, sugar, currants, raisins, butter and cherry preserves. Add ginger, cloves, nutmeg, cinnamon and salt. Let simmer, uncovered, over low heat until mixture is very thick, about 90 minutes. Stir in cherries and remove from heat.
Refrigerate tightly covered for at least one week before using.
Preheat oven to 350 degrees F. Put filling in unbaked pie shell. Remove the second uncooked pie crust pie crust from tin container and cut into a strips and place in a crisscross pattern on top or use a cookie cutter to make festive designs. Brush top with cream and sprinkle with sugar.
Bake in preheated oven for 35 minutes, or until golden brown.