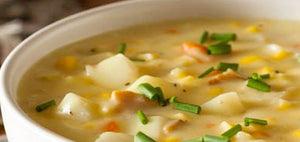 Turkey Corn Chowder
This recipe is a much lighter chowder than the typical creamy New England-style chowder, but don't worry, our version still has the same hearty flavors. From prep to table in less than 30 minutes makes this an easy and quick meal that's perfect any time of the year.
Ingredients
1 can (28 oz.) Keystone Turkey
1 1/2 tsp. Keystone Chicken Soup Base in 2 cups of water
1 yellow onion, diced
1 large carrot, thinly sliced
pinch of salt
2 Tbsp. butter
3 russet potatoes, peeled and cut into 1-inch cubes
1 tsp dried thyme
1/4 tsp fresh ground pepper
1 can cream style sweet corn
1 can sweet corn, rinsed
1/2 Tbsp. olive oil
3 cups 2% milk
chopped fresh parsley, for garnish
Steps
Heat butter and olive oil in a large soup pot over medium-high heat. Add onions, sliced carrots, and pinch of salt; cook for 3 minutes, stirring occasionally.
Stir in the Keystone Turkey and potatoes; season with thyme, salt and pepper.
Add cream style corn, sweet corn, Keystone Chicken Soup Base mix and milk; bring mixture to a boil over high heat. Reduce heat to low and cover the pot; simmer for 20 minutes, stirring occasionally.
Remove from heat and let stand several minutes. Garnish with chopped parsley.