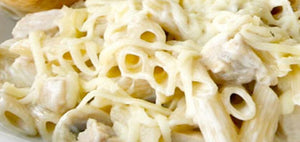 Turkey Tetrazzini
Why use leftovers for your Turkey Tetrazzini when you can use our fully cooked all white meat turkey? This classic recipe is perfect for the neighborhood potluck.
Ingredients
1 can (28 oz) Keystone Turkey, shredded
1 1/2 tsp Keystone Chicken Soup Base in 2 cups water
2 Tbsp. flour
1/4 cup butter
3/4 cup half and half
3 Tbsp. Sherry, optional
1 Tbsp. chopped fresh parsley
1/2 tsp. salt
1/8 tsp. nutmeg
Dash black pepper
8 oz. penne pasta
4 1/2 oz. sliced mushrooms
1/2 cup of grated Romano
Extra chopped parsley for garnish
Steps
Preheat your oven to 350º F.
Cook the pasta as per the package directions. Drain and set aside.
In a Dutch oven, melt your butter. Stir in the flour to make a roux and then add Keystone Chicken Soup Base mix, stirring constantly until the sauce has thickened.
Remove it from the heat and stir in the half and half, sherry (optional), parsley, salt, nutmeg, and pepper.
Toss the pasta, Keystone Turkey and mushrooms with sauce until everything is well coated.
Turn the mixture onto a 9" x 13" pan and sprinkle with the Romano cheese.
Bake for around 40 minutes or until bubbly and thoroughly heated. Sprinkle with parsley and enjoy!