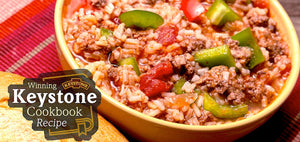 Unstuffed Pepper Soup
A Keystone Cookbook Recipe Winner, this Unstuffed Pepper Soup recipe, using Keystone Ground Beef, is a one-pot wonder! Easy to make and even easier to clean up ... especially because there won't be any leftovers! Winning recipe submitted by Daniel C.
Ingredients
1 can (28 oz.) Keystone Ground Beef, drained
1 can (27 oz) Keystone Beef Broth
1 package Spanish rice side dish
1 Green bell pepper, diced
1 Red bell pepper, diced
1 medium onion, diced
2 cans (15 oz.) Diced tomatoes
1 can (32 oz.) Tomato juice
Steps
Add all ingredients in a large pot and bring to a boil.
Reduce heat and simmer for 20 minutes (or until rice is cooked).