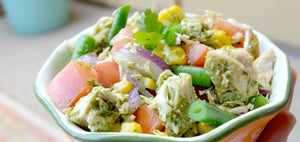 Veggie & Chicken Summer Salad
Our fresh Veggie Summer Salad is the perfect side dish for the weekend BBQ or cookout. What's the answer to quick meal preparation? Using all natural Keystone Chicken! When you open a fully cooked can of Keystone Chicken you'll cut down on the mess, and you'll cut meal prep in half!
Ingredients
1 can (28 oz) Keystone Chicken
4 ears of corn, cooked and the kernels sliced off each cob (Optional, leave off for Keto Diet)
3 cups fresh green beans, cut in half
3 cups fresh tomatoes, diced
1 medium red onion, thinly sliced or diced
½ Tbsp + 1 Tbsp olive oil
1/2 cup white onion
1 tsp minced garlic
1 cup fresh cilantro
2 fresh jalepenos, stems and seeds removed
3 Tbsp apple cider vinegar
½ cup feta cheese (optional)
Salt to taste
Steps
Add the green beans to a medium pot of boiling water and boil 4 minutes. Immediately drain and transfer the beans to a bowl of ice cold water.
Combine corn kernels, dried off green beans, tomatoes, red onion and Keystone Chicken to a large bowl. Set aside.
To make the dressing: Heat 1 tbsp olive oil in a skillet over medium heat. Add the white onion and minced garlic, and cook for about 5 minutes. In a blender, combine cooked garlic and white onion, ½ cup olive oil, cilantro, jalapenos, vinegar and salt. Blend until smooth.
Pour dressing over the salad and toss everything to combine. Top with feta cheese if desired.